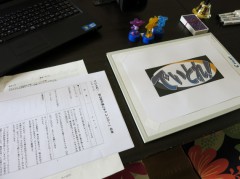 About the work we can do / registered writers we can introduce
~We can also respond to requests from Chinese and English speaking countries~
Fiction Studio specializes in creating entertainment stories. We assign the most suitable registered writers based on the customer's request, and manage them until delivery with responsibility.
In addition to game scenario production, we also provide localizations(secondary translation) for games, screenplays for movies/dramas/animations, scripts for various videos/stage shows/TV programs/Youtube videos, writings for original manga/books/novels/light novels and text productions for applications/web media, etc.
Among game genres, we handle RPGs, romantic simulations for women and men, adventure games, and situation CDs. In the visual field, we have experience in producing scripts for TV programs, corporate and organization promotions, etc.
In order to deliver a high quality scenario, all of the writers registered in Fiction Studio are selected from a large number of applicants with proven record in scenario writing (please see the link of SENARIO STAFF) through document screening and interviews. We limit the number of writers to 50 and monitor the skills and status of each writer.
The registered writers is renewed every year so that we can handle new genres and tastes.
How to make a request
Fee Structure for Game
We also accept orders for dialogue only, text only, plot only, and supervision work. Please feel free to contact us.
(We can discuss how to manage your order within your budget).
The price is just a guide. We will take into account the contents and the market price at the time of your request.
We will charge you an extra fee for additional orders and specification changes.
We will charge you an extra fee for urgent requests that require work in the middle of the nigh
We may charge you an extra fee if you are not OK with disclosing the result of production as our work.
Scenario writing
A)KB unit price
¥2,000~
※1KB = 500 text conversion
※You will pay based on the number of characters at the time of order, not the number of characters at the time of receiving inspection.
※In the case of Word or txt file delivery, the number of texts for production instructions (if any production instruction is needed) are included in the text count.
B)Work period (per writer)
| | |
| --- | --- |
| 15 Days | ¥150,000~ |
| 1 month | ¥300,000~ |
| 2 months | ¥600,000~ |
| 3 months | ¥900,000~ |
Other considerations)
| | |
| --- | --- |
| plot | Approximately 20-35% of scenario fee |
| Worldview setting | ¥250,000~ |
(A), (B), and (Other considerations) include writer introduction and progress management fees (excluding proofreading).
If supervision or proofreading is required, a scenario director/supervisor fee will be charged depending on the degree of supervision.

Scenario director/supervisor fee
This is the approximate fee for scenario director/supervision.
Media other than games
Please feel free to contact us by e-mail.